Alpha Company, 1st Bn, 7th Marines, 1st Marine Division, Viet Nam Era
Years of 1965 - 1970 in VN.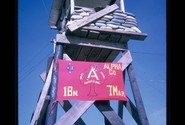 2019 Reunion Info
I am Steve Ek. I know a few of you well, and have met many of you at the 2017 reunion at San Antonio. I want to tell you about my experience thus far in finding a suitable location for our 2019 reunion.
If you will remember, we voted at the 2017 reunion that the location of the 2019 event would be at Las Vegas, NV. I searched and communicated with several hotel/casinos at that location, but the constant hang-up was use of a meeting/hospitality room and their forbidding us from bringing alcoholic beverages into that room. Further, most places wanted to limit our time in that room to four (4) hours per day and to place a bartender to sell all items. So, in addition to paying top dollar for a beer or a glass of wine, we have to pay for a bartender at $100.00 per shift. Some hotels were willing to comp the meeting room, but we would have to buy at least $500.00 per day of drinks, snacks, etc. from them. To me, this is unacceptable, and they were arrogant enough to state that high demand allowed them to continue these practices.
I moved on to search Biloxi, MS, and found the same rules and charges there were in effect. So, I decided to inquire back at the same place we had our reunion in 2017- they were gracious enough to offer the same terms given in 2017, including a free meeting/hospitality room that we could stock with food and drink ourselves. Also, if you remember, the food cost was quite reasonable and we had a variety of restaurants nearby on the riverwalk to patronize. Las Vegas food and drink prices are excessive.
After communicating with those in our group who have put on reunions in the past, we decided that returning to the El Tropicano Hotel, San Antonio is the best deal and affordable for all. I executed a contract with them yesterday. The dates of our 2019 reunion are April 10-14, 2019.
I intend to put together at least one field trip from the hotel to entertain you good Marines and your wives/companions. Perhaps we can do two, time permitting.
I intend to complete an itinerary for this event in the near future with counsel from a few of you. I emphacize that I intend to divide the tasks required to make our 2019 successful, so please volunteer to help when and if called on. One person cannot do it all. In the meantime, I hope that you will be satisfied with what I have arranged. I do not want us to be "shaken down" with high prices and unsatisfactory terms that are found at Las Vegas and Biloxi. We have received a good deal from El Tropicano. If you choose, feel free to communicate with me at e-mail sek@suddenlink.net. I will be available and communicating with you in the near future. Early preparation is the key to success!!
Hey Gents!
I have received the link from the El Tropicano Hotel with info allowing you to register your hotel room for the 2019 reunion from this website. I am going to attempt to copy and paste it here for you, so that you can use it to book your rooms. I confess that I am not a computer geek, so we shall see what happens. If this doesn't work, I will lift that info and type it into this webpage. S/F, Steve
Great!! It appears to have worked OK. So, my friends, use the above URL, if you want, to book your room at the El Tropicano. Or you can call the hotel at 210-277-4043, ask for reservations, and ask for the Alpha 1-17 group rate. If any problems, e-mail me. S/F
Now comes the moment of truth! I need volunteers to take charge of the following events or services:
1. Hospitality room
2. Memorial Service
3. Banquet
Please respond to me at
sek@suddenlink.net
, so that I can e-mail you a copy of the event functions and who, on hotel staff, you will be coordinating with, if necessary. Remember, good Marines, that this is not a one man band. Volunteering, cooperation and coordination between members will make this a success.
S/F, Steve
1 November 2018
Hey Marines, Docs, and Family!!
Kathie Perry just finished completing the 2019 reunion registration form for me and it has been mailed to you. Please open the pdf. document, complete the page as directed, print and mail to me at 7117 Meadowview Lp., Lake Charles, LA 70605 with your check. We will take care of the rest until we see you at San Antonio.
Link to Registration Form for A17 2019 Reunion
/000/6/1/5/19516/userfiles/file/2019%20registration%20form%202(1).pdf
Please find below the Agenda for the 2019 A17 Reunion in San Antonio, Texas –
April 10-14, 2019
The registration form and the agenda for the reunion were also sent to everyone by email. If you did not receive a registration form please email Steven Ek, Reunion Coordinator, at sek@suddenlink.net or print from the url link above.
ALPHA 1-7 AGENDA – 2019 REUNION
Wednesday, April 10, 2019
Reunion staff
arri

ve
Supervise setup-hospitality room and registration area
Setup signs, etc.
Thursday, April 11, 2019
Marines & Corpsmen arrive
12:00 Noon - Welcome aboard
Registration throughout day - hospitality room
Hospitality room open - relax, settle down, buy raffle tickets
Dinner on your own
Friday, April 12, 2019
6:30 AM-9:30 AM: breakfast on your own
8:30 AM: gather in lobby for missions tour
8:45 AM-1:00 PM: five missions tour & lunch
9:00 AM-10:00 PM: hospitality room open
Lunch on your own for non-tour members
5:30 PM: gather at river walk side of hotel for walk to Tex-Mex Restaurant
5:45 PM-6:00 PM: walk to Tex-Mex Restaurant
6:00 PM-8:00 PM: dinner at Tex-Mex Restaurant
Non-attendees: dinner on your own
9:00 PM: 1st raffle - hospitality room
Golf Tournament: Gary Hunt – contact Gary at ghunt12@sctx.rr.com
Saturday, April 13, 2019
6:30 AM-9:30 AM: Breakfast
10:00 AM: Business Meeting-Hospitality Room
Lunch on your own
2:00 PM: Memorial Service - Hospitality Room
5:30 PM: All hands group photo
6:00 PM: Cocktail reception - Cash bar
6:30 PM: Evening banquet - Raffle #2

Sunday, April, 14, 2019
Farewell
Link to printable Agenda for the reunion:
/000/6/1/5/19516/userfiles/file/Agenda_%202019%20Reunion-1(1).pdf
All of the above was brilliantly done by Kathie Perry, due to my lack of computer efficiency. Thanks so much to Kathie for making my job much more easy. Semper Fi, Steve
19 November 2018
Marines, Corpsmen,and family members!
I am pleased to announce I learned today that the San Antonio 4th Recon Bn. is going to furnish a color guard and a guest speaker, Lt. Col. John K. Hood, for our banquet. This is great news and takes care of a large issue for our banquet. But I do also advise that the 4th Recon Bn. is sending advisors to Iraq, and if some emergency should arise, the appearance of Lt. Col. Hood may be canceled or altered. I am willing to take that risk.
I also express my gratitude to Ronald Fieseler who volunteered to recruit a color guard for the banquet. I hope that Ron and I will "take care" of our guest Marines from 4th Recon at the banquet in order that they may receive our highest courtesies and attention. Semper Fi, Steve