Alpha Company, 1st Bn, 7th Marines, 1st Marine Division, Viet Nam Era
Years of 1965 - 1970 in VN.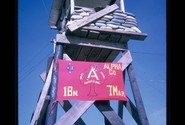 In Memory of Members Passed
Robert J. "Irish" McCLANCY - Year In Country 1967
Marine Robert J. "Irish" McClancy died in May 2006. Irish's wife, Martha Ann, called Orlando Ramirez while we were attending the 1/7 battalion reunion in Orlando, FL, and reported that McClancy had died. Further, Mrs. McClancy in a shared email with other A 1/7 Marines, dated Dec. 24, 2006, shared the following: "In some ways it hardly seems possible that Irish has been gone for 7-1/2 months, and then in other ways, it seems as though he has been gone forever."