Alpha Company, 1st Bn, 7th Marines, 1st Marine Division, Viet Nam Era
Years of 1965 - 1970 in VN.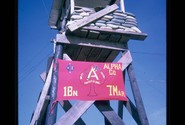 Meade River Personnl Awards
*BIGGS, JIMMY D. PFC (KIA)
Citation:
The President of the United States takes pride in presenting the Silver Star Medal (Posthumously) to Jimmy D. Biggs (2451993), Private First Class, U.S. Marine Corps, for conspicuous gallantry and intrepidity in action while serving as a Fire Team Leader with Company A, First Battalion, Seventh Marines, FIRST Marine Division in connection with operations against the enemy in the Republic of Vietnam. Shortly after midnight on 7 December 1968, Private First Class Biggs was occupying a listening post in Quang Nam Province when he alertly observed two North Vietnamese Army squads advancing toward his company's position. Realizing the enemy's intent, he quickly led his men in directing a heavy volume of fire on the advancing hostile force, killing several of the attackers and forcing the remaining soldiers to retreat in panic and confusion. Subsequently, the following morning, he was leading his squad back to the scene of the evening's battle when the Marines came under intense enemy machine gun fire and sustained several casualties. Observing his mortally wounded squad leader among the injured, Private First Class Biggs unhesitatingly took command of his unit, and rapidly establishing a defensive perimeter, he coordinated the extraction of casualties while continually appraising the platoon commander of the tactical situation. As Company A resumed its advance, the Marines again came under heavy North Vietnamese machine gun fire, and quickly pinpointing a hostile emplacement, Private First Class Biggs fearlessly assaulted the enemy soldiers. Ignoring the enemy rounds impacting near him, he had boldly advanced to within ten meters of the North Vietnamese machine gun when Private First Class Biggs was mortally wounded by the intense enemy fire. His daring initiative and heroic efforts inspired all who observed him and contributed significantly to the accomplishment of his unit's mission. By his courage, aggressive fighting spirit and steadfast devotion to duty, Private First Class Biggs upheld the highest traditions of the Marine Corps and of the United States Naval Service. He gallantly gave his life for his country.
Home Town: Kansas City, Missouri.
*PHIPPS, LANNY W. L/Cpl. (KIA)
Synopsis:
The President of the United States takes pride in presenting the Silver Star Medal (Posthumously) to Lanny W. Phipps (2255099), Lance Corporal, U.S. Marine Corps, for conspicuous gallantry and intrepidity in action while serving with Company A, 1st Battalion, 7th Marines, 1st Marine Division (Rein.), FMF, in connection with combat operations against the enemy in the Republic of Vietnam on December 7, 1968. By his courage, aggressive fighting spirit and steadfast devotion to duty in the face of extreme personal danger, Lance Corporal Phipps upheld the highest traditions of the Marine Corps and the United States Naval Service. He gallantly gave his life for his country.
Home Town: Rutherford, New Jersey

*RATLIFF, FRED A. Sgt. (KIA)
Synopsis:
The President of the United States takes pride in presenting the Silver Star Medal (Posthumously) to Fred A. Ratliff (2015147), Sergeant, U.S. Marine Corps, for conspicuous gallantry and intrepidity in action while serving with Company A, 1st Battalion, 7th Marines, 1st Marine Division (Rein.), FMF, in connection with combat operations against the enemy in the Republic of Vietnam on December 7, 1968. By his courage, aggressive fighting spirit and steadfast devotion to duty in the face of extreme personal danger, Sergeant Ratliff upheld the highest traditions of the Marine Corps and the United States Naval Service. He gallantly gave his life for his country.
Home Town: Denver, Colorado