Alpha Company, 1st Bn, 7th Marines, 1st Marine Division, Viet Nam Era
Years of 1965 - 1970 in VN.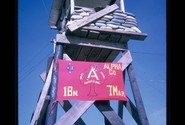 In Memory of Members Passed
Jerry D. Peek, Cpl - Year In Country 1965
Deceased Marine/Corpsman: Jerry D. Peek, Cpl (1965)
Date Of Birth: 02-28-1945
Date Deceased: 07-13-2007
Age at Death: 62
Cause of Death: PTSD related
Marine/Corpsman City: San Diego area
Marine/Corpsman State: CA
Marine/Corpsman Country: USA
Was a Veteran: Yes Marines
Survived By: Divorced wife, Cynthia Peek, 2 children, a son in Fort Worth, TX and a daughter in CA.

Cpl Peek was a good marine and true friend. He had a couple of big dreams. 1. to marry Cynthia. 2. play football for Duffy at Michigan State. I had been searching for him for years and I found five years too late. He was promoted to Sgt before being discharged in 1967. He carried the war inside of himself and that contributed to his early demise(ptsd related).