Alpha Company, 1st Bn, 7th Marines, 1st Marine Division, Viet Nam Era
Years of 1965 - 1970 in VN.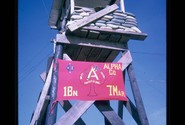 In Memory of Members Passed
Doc Steve Ingledew - Year In Country 1965
FMF Corpsman Doc Ingledew passed away January 29, 2012.
Age at Death: 68
Cause of Death: mds
Marine/Corpsman City: talent
Marine/Corpsman State: OR
Marine/Corpsman Country: USA
Survived By: wife, Dani, sons, Dan and Paul, daughters Ali and Carey, grandkids, Ashley, Kelly, Dylan, Sam, Olivia, Taylor, Tim, Andrew, Abbi, Emily, Laural and Jordyne

Wonderful husband, father and grandfather. The last ten years of his life he worked for the VA as a readjustment counseler, helping his buddies heal. He was so proud of all Marines. Wherever he went he would always pick out the Marine and have a talk. He went to his 1st Marine reunion in 2011. He came back a changed man. His last request, "Please make sure I have a Marine Honor Guard." He did. His service took place on Feb. 6. He is buried at the Eagle Point National Cemetary in Eagle Point, Oregon.